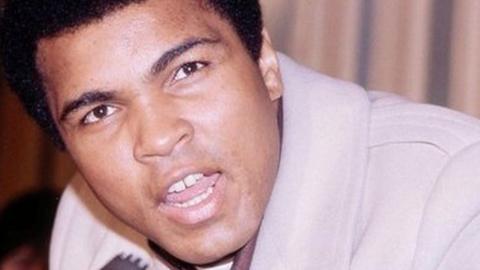 Most people in my age group will remember Muhammad Ali when he was in his prime. Even if you were not into boxing he grabbed your attention. Not only was he an outstanding boxer; he was a master at the art of self promotion.
Even now at the age of 55 I remember him shouting
'I am the greatest
' and the little poems he made up such as "
Float like a butterfly, sting like a bee, his hands can't hit what his eyes can't see
."
Sometimes his comments where quite crazy - On one occasion when flying on a plane he refused to buckle his seatbelt stating that "
Superman don't need no seatbelt',
the air hostess was quick witted and smart and responded
"if you are superman you don't need no plane".
On

another

occasion he said

"I'm not the greatest, I'm the double greatest. Not only do I knock 'em out, I pick the round. I'm the boldest, the prettiest, the most superior, most scientific, most skilfullest fighter in the ring today."
And again
"People don't realise what they had until it's gone. Like President Kennedy, nobody like him. Like The Beatles, there will never be anything like them. Like my man, Elvis Presley. I was the Elvis of boxing."
It's hard to know what was said in jest, what was all hype for the boxing ring or to play mind games with his opponents and what was what he really felt. Listen to these quotes "
The fact is, I was never too bright in school. I ain't ashamed of it, though. I mean, how much do school principal's make a month? I said I was 'The Greatest', I never said I was the smartest!"
Or -
"At home I am a nice guy - but I don't want the world to know. Humble people, I've found, don't get very far."
But consider - "I said a lot of things in the heat of the moment that I shouldn't have said. Called him names I shouldn't have called him. I apologise for that. I'm sorry. It was all meant to promote the fight."
My final quote on his self confidence - "It's hard to be humble when you're as great as I am.
He will be remembered as an athlete who changed his sport.
Born Cassius Marcellus Clay, Ali shot to fame by winning light-heavyweight gold at the 1960 Rome Olympics. Nicknamed "The Greatest", the American beat Sonny Liston in 1964 to win his first world title and became the first boxer to capture a world heavyweight title on three separate occasions.

Crowned "Sportsman of the Century" by Sports Illustrated and "Sports Personality of the Century" by the BBC, Ali was noted for his pre- and post-fight talk and bold fight predictions just as much as his boxing skills inside the ring.


Ali's boxing career


Won Olympic light-heavyweight gold in 1960, in February the following year, Clay stunned the boxing world by winning his first world heavyweight title at the age of 22. He turned professional that year and was world heavyweight champion from 1964 to 1967, 1974 to 1978 and 1978 to 1979. He delighted crowds with his showboating, shuffling feet and lightning reflexes. Ali competed in 61 professional bouts, winning 56 (37 knockouts, 19 decisions), and losing five (4 decisions, 1 retirement). He eventually retired in 1981.
He will be remembered as an activist who changed his nation!
Muhammad Ali entertained the world for more than half a century with his legendary one-liners, witticisms and diatribes. He earned the a place in history for his outstanding abilities as well as his desire for the rights of the downtrodden black peoples. Listen to this quote
"I'm gonna fight for the prestige, not for me, but to uplift my little brothers who are sleeping on concrete floors today in America. Black people who are living on welfare, black people who can't eat, black people who don't know no knowledge of themselves, black people who don't have no future."
BUT No matter how great, successful and impressive you might by in life at the end of the day we are all mortal.
Muhammad Ali is dead. I don't mean to be disrespectful but we have to ask the
question
what does all that fame and
fortune
mean to him now? Where is he now? Is this the end? Was it all just a game to be played and it's all over?
There are answers! I cannot
answer
for
Muhammad Ali but I can tell you what the Bible says so that you can make sure that you know the answers as far as you are concerned!
What does fame and fortune man when you die?
36

For what shall it profit a man, if he shall gain the whole world, and lose his own soul?
Mark 8:36
King James Version (KJV)
21

Then said Jesus again unto them, I go my way, and ye shall seek me, and shall die in your sins: whither I go, ye cannot come.
22

Then said the Jews, Will he kill himself? because he saith, Whither I go, ye cannot come.
23

And he said unto them, Ye are from beneath; I am from above: ye are of this world; I am not of this world.
24

I said therefore unto you, that ye shall die in your sins: for if ye believe not that I am he, ye shall die in your sins.
John 8:21-24
King James Version (KJV)
In other words if you die with your sins unforgiven you cannot be where Jesus is i.e. in Heaven!
Is this the end?
27
And as it is appointed unto men once to die, but after this the judgment.
Hebrews 9:27

King James Version (KJV)
Death is not the end, just the end of this life. We are warned in the Bible to prepare to meet God and be ready for the next life.
Was it all just a game to be played and it's all over?
Life is short but it not a game. It is serious! We are created by God and have a soul that will never die. We need to be prepared.
To access podcasts and videos explaining the good news of salvation through faith in Jesus Christ visit www.seekthetruth.org.uk
This site will give you access to Bible Teaching Audio's and Video's as well.